Kodaikanal cottages lowest price can be booked for family & group stay through online and offline phone calls. Contact 8870092253 to book the low-cost 3bhk private Kodaikanal Cottages with firecamp, heater, garden and room service which is affordable to budget friendly travellers. Cheap stays can be pocket-friendly during the festival season with discounted prices and offers the best value for money.
Kodaikanal is a picturesque hill station located in the state of Tamil Nadu, India. Situated in the Palani Hills of the Western Ghats, it is known for its natural beauty, cool climate, and charming landscapes. Kodaikanal is often referred to as the "Princess of Hill Stations" and attracts guests from around the world and so the demand for kodaikanal cottages are peak during the summer season of April and May.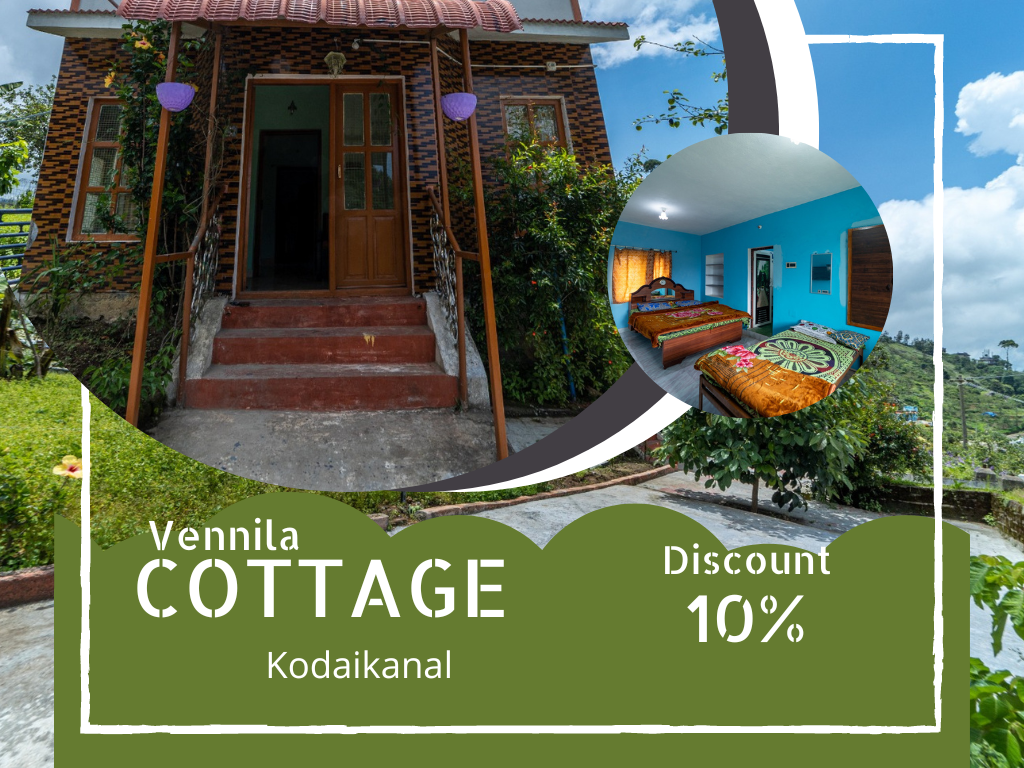 The name "Kodaikanal" translates to "The Gift of the Forest" in the Tamil language with its lush greenery and abundant flora. Kodaikanal town is situated at an elevation of 2,133 meters (6,998 feet) above sea level. The main attractions is Kodaikanal Lake, a man-made lake spread across 60 acres, where visitors can enjoy boating, horse riding and cycling.
kodaikanal cottage for group stay
Cottages and resorts in Kodaikanal are increasing 23% every year because of the huge demand from the tourists as its close proximity to Chennai, Coimbatore and Madurai. Due to the Kodaikanal cottages demand many House owners have converted their home to homestays. To make the registration easier Government of Tamilnadu has proposed guidelines for bed and breakfast establishments on 23.02.2022.
According to the research paper on "Land use and land cover change detection through remote sensing approach: a case study of Kodaikanal Taluk, Tamil Nadu" by C. Prakasam most of the Agricultural land, Built up area, Harvested land and Waste land also have experienced change and Built­-up lands (Settlement) have increased from 3 per cent to 21 per cent of the total area which is the main reason for increase in kodaikanal cottages and resorts.
If you're looking for a private cottage in Kodaikanal to spend time with your friends and family then it is best to book the cottages that are away from the Kodai Lake and the main reason is Lake is crowded during the weekends.
There are so many independent cottages in kodaikanal for staying in group within cheaper budget. The main amenities to look for while booking Kodaikanal cottages in low price are firecamp, free wi-fi, garden, heater facility, balcony view, free private parking and room service.
Vennila Cottage in Kodaikanal Pictures
Pictures showing our private cottage in Kodaikanal with beautiful balcony view of the Adukkam village, theni and vaigai dam. Guests can enjoy a serene stay in vennila cottage with fire-camp, live BBQ and sunrise view in the morning.
Kodaikanal Cottages Lowest Price
Cottages Price varies depending on the choice of the type of stay such as Holiday home, resort, villa or independent cottage in Kodaikanal.
If you're looking for Kodaikanal cottages lowest price then the vennila homestay is the best option to book.
Vennila Kodaikanal Cottage Price
Booking Kodaikanal Cottages : Contact Number
Guests can confirm the booking for Vennila Cottage by calling the contact number : 8870092253
To get discounts for the Kodaikanal Cottages lowest price booking then you can pay through online booking platforms like Makemytrip, AirBnb and Agoda.
Location of Kodaikanal Cottages – Vennila Cottage
Just at 9 kms from the Kodaikanal Lake, Vennila Cottage in Kodaikanal is located at Plot No 2 & 3, Pear Garden, Convent School, Prakasapuram, backside, Kodaikanal, Tamil Nadu 624101
How to reach Vennila Cottage in Kodaikanal
If you're coming by flight then the nearest airport to Kodaikanal is Madurai.
If you're coming by train then the nearest railway station is Dindugul.
If you're coming by Bus then the nearest bus stop is Shenbaganur stop.
If you're coming by Private vehicle from Chennai then take the Batlagundu route.
If you're coming by own vehicle from coimbatore then take the Palani route.
Kodaikanal Cottages Amenities : Firecamp, Heater, Garden & Shuttle Services
If you're planning to enjoy your stay with group of friends in Kodaikanal cottages with firecamp then Vennila cottage near Shenbaganur is the best choice.
Amenities in Vennila Cottage in Kodaikanal
Vennila Cottage Kodaikanal Property Rules
Check-in Time : 12:00 P.M
Check-out Time : 12:00 P.M
Guests are requested to carry their own personal dental and medical kits.
Guest must provide Govt. Approved ID Proofs.
Pets are allowed outside the cottage.
Outside food is allowed.
Smoking inside the cottage is allowed.
Unmarried couples are allowed only after the approval of the booking manager.
Breakfast, Lunch and Dinner are available at extra cost.
Kodaikanal Cottages for Couples for Honeymoon
If you are planning a trip for Honeymoon to Kodaikanal then there are several options of rental cottages in Kodaikanal available for spending the honeymoon trip.
The latest ongoing trend among honeymoon couples is the Glamping, Which is famous for staying and activities to do inside the glampsite.
Starry Nights Glamping in Kodaikanal is famous among the honeymoon travellers providing different packages for couples.
What is the best time to visit Kodaikanal
The best season to visit climate is during March-May because of its cold climate whereas other cities such as Chennai, Madurai, Coimbatore and Trichy experiences humid weather during those months.
Summer (March to May): Summers in Kodaikanal are mild and pleasant, with temperatures ranging from 20°C to 36°C (68°F to 97°F). While it can get warm during the day, the evenings are usually cool and comfortable. It is a popular time to visit as the weather is generally favorable for outdoor activities and sightseeing.
Monsoon (June to September): Kodaikanal receives moderate to heavy rainfall during the monsoon season. The showers bring a refreshing change to the landscape, with the hills turning lush green. Temperatures during this time range from 17°C to 25°C (63°F to 77°F). It is advisable to carry an umbrella or raincoat and be prepared for occasional fog and mist.
Winter (October to February): Winters in Kodaikanal are chilly but not extreme. The temperatures range from 8°C to 20°C (46°F to 68°F). It is a popular time for tourists, especially those who enjoy cooler weather. The mornings and evenings can be quite cold, so it is recommended to carry warm clothing. The winter season offers clear skies and is ideal for sightseeing and exploring the natural beauty of the region.
What is Special in Kodaikanal
Kodaikanal is special for the climate and there are many reasons to visit Kodaikanal. Youngsters visit Kodaikanal for trekking and adventure, Families visit Kodaikanal during the summer holidays for their children for vacation, Friends tour Kodaikanal for road trips and holiday rentals.
Main special reason for couples to visit Kodaikanal is because it is one of the best honeymoon destination in India and Kodaikanal Honeymoon Package are budget friendly.
What are the places to visit in Kodaikanal
When you're planning to Stay in Kodaikanal Cottage for more than a night then you can take a cab for local sightseeing around Kodaikanal.
Here are the most visited tourist attraction in Kodaikanal :
Bryant park
coakers walk
kodai lake
guna caves
pillar rock
moir point
valley view
city view
pine forest
kurinji andavar temple
vattakanal
silver cascade falls
If you're planning to stay in the cottages in Kodaikanal for more than 2 nights then here are the list of tourist places to visit in Kodaikanal in 2 days.